OUR LADY OF GUADALUPE,
"EMPRESS OF THE AMERICAS"
AND "MOTHER OF MERCY"
by Coley Taylor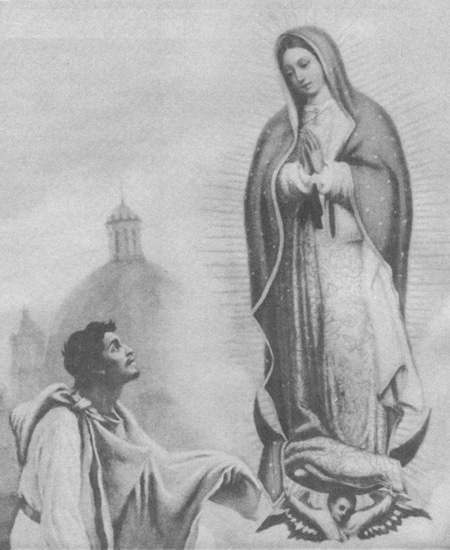 We can proudly—and humbly—say that America is the land of Our Lady. And by America I do not mean simply the U.S.A. I mean ALL of America—the Western Hemisphere. Every nook and corner of it has been dedicated to the Blessed Virgin, and was so dedicated long before the Bishops in 1846 dedicated the United States to her in her title of the Immaculate Conception, and asked her to be our celestial Patroness. In a very real sense they were only ratifying something that had already taken place centuries earlier.
The most important dedication of America to Our Lady took place in Mexico in December, 1531. The event was all-embracing; and the deed was done by no other than the Blessed Virgin herself. In her talks with Juan Diego, she specifically claimed him and "
all the people of these lands and all who come to me
" as her children, and asked that a church be built there at Tepeyac, where she could console and help them and hear their prayers and petitions. At that time there were no national boundaries—it was just the New World. And Mexico is almost exactly the mid-point of the twin continents, and the only capital city then known in the Americas. Our Lady claimed all these lands for herself. Mexico and Spanish writers and ecclesiastical authorities from the beginning have always called her "Queen of The Americas," and they called the Apparitions, "The American Marvel" or "Miracle"—"
Maravilla Americana
." Those who refer to Our Lady of Guadalupe as "The Mexican Virgin" are in error. She is also "Empress of the Americas."
Read more...